Mortgages for First Time Home Buyers
Getting you the mortgage you deserve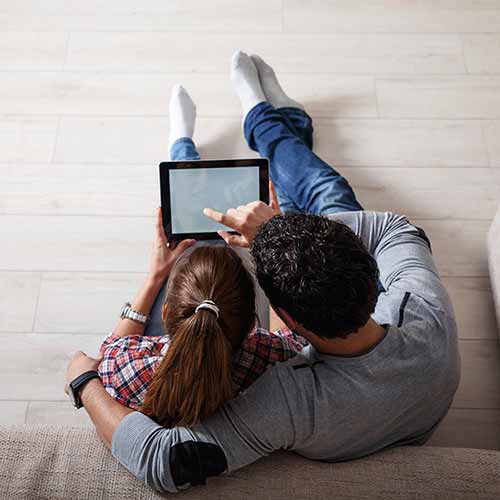 Looking for your first home?
Buying a home is an exciting time! You're about to take a big step so you'll definitely need some advice from a mortgage professional. I will give you the facts your bank won't tell you about financing your next purchase. With access to multiple lenders, I will help you find the best rates and best mortgage options to help you buy your dream home. My best advice? Begin a conversation with a mortgage professional in your area.

Apply for a mortgage
Need a pre-approval before you go househunting?
Find out how much you can afford before you go househunting! This will keep you focused on shopping for homes within your price range. If you qualify for a preapproved mortgage, you'll be certain of the size of mortgage for which you qualify and guaranteed a rate for a specific period of time. If you don't qualify for a pre-approved mortgage, I will be able to help you estimate a mortgage-qualifying amount.
Can I Afford to Buy A New Home?
Buying a new home is an amazing step in life, but also a very expensive one. Asking yourself some basic questions can help save your time and money in the long run. What are your housing needs, budget, career outlook, and savings progress? You will need a down payment to start - which can be a lump sum as low as 5-10% of the purchase price of the home.
The mortgage is the loan you will take out to help pay for the rest of the house. It is recommended to have a mortgage payment that does not exceed 30% of your monthly income (before deductions).
Closing costs are an additional cost that involve property transfer tax, goods and services tax, legal fees, appraisal fees, insurances, home inspections, and more depending on the situation. A general guideline is to set aside 1.5% of the home's price to account for closing costs.
For example, a home that is for sale for $350,000 would require a 5% down payment of $17,500. This means you need to have at least $17,500 to put towards the house as your downpayment. The other $332 500 can be paid off using a mortgage. Closing costs vary, but in this example, they might be around $5,250 (calculated as 1.5% of $350,000).
What is the Process to Buy a House in British Columbia?
The main steps to purchase a home in British Columbia as a checklist:
Understand the responsibilities of home ownership, what your needs and wants are for your new home, and a general idea of your purchasing budget.
Understand and know your credit score.
Have a down payment ready (5% - 20% of home price)
Get pre-approved for a mortgage (also called a "Pre-Approval" or "Ratehold")
View homes online and potentially contact real estate agents
Find a home to buy and make an offer
Complete a home inspection
Complete the transaction by signing papers and fulfilling conditions if necessary.
Looking for help getting set up with a pre-approved mortgage using the best rates and options available?
Shop with confidence in your budget, and have a guaranteed rate or ratehold for a specific period of time. If you are unable to qualify for a pre-approved mortgage, you can get help estimating a mortgage qualifying amount.

View Mortgage Claculators
How Big Should My Down Payment Be?
The minimum down payment is 5% - 10% of the cost of the home. It is, however, better to have a larger down payment as it will reduce the size of the mortgage you borrow, which saves monthly interest fees.
A down payment that is less than 20% of the purchase price will require an additional cost or premium called mortgage loan insurance. This type of insurance protects the lender in case you are unable to make your minimum monthly mortgage payment.
Your minimum down payment depends on the price of the home. Contact me to discuss as this policy may change from time to time.
What is a "Pre-Approval" and How Do I Get One?
A preapproved mortgage is a way of finding out how much money a lender is willing to approve for your first home. Once you know how much you can borrow, you can have greater confidence when searching for and bidding on a home.
Getting a pre-approval involves filling out a mortgage application which will ask questions about borrower information, employment information, assets, liabilities and more. Once the application goes through, you will end up knowing how much you can afford with a guaranteed rate for a specific period of time. This gives you more breathing room when shopping for your new home.
If you are unable to qualify for a preapproved mortgage, sign up for help to estimate a mortgage qualifying amount.
What Additional Costs Are Associated With Buying a House or Rental Property?
When buying a house or rental property, it is important to be aware of additional costs. Being aware and researching what these costs are, will help you be prepared for your new purchase.
Additional Costs When Buying a Home or Rental Property:
Mortgage insurances
Home Inspection fees
Goods and Service Tax (5% GST) and Provincial Service Tax (PST) on new homes.
Closing costs like property transfer tax, home insurance, land survey fees, property tax adjustments
Moving expenses (i.e. Hiring a moving company)
Realtor commission fees
Miscellaneous things like the cost of changing the locks on all doors, hooking up utilities like hydro and internet, and immediate repairs.
B.C. First-Time Home Buyer's Incentives, Programs, Grants, Tax Exemptions, and Assistance
In British Columbia, there are some great ways to save money when purchasing a new home or rental property for the first time.
The B.C. Government's First Time Home Buyer's Program can reduce or even eliminate the amount of property transfer tax that you pay. An exemption may occur fully or partially once you apply for this program.
The Canadian government has a first-time home buyer's tax credit (Home Buyer's Amount) which can be up to $750 in federal tax relief.
The RRSP Home Buyer's Plan can be an option for those that already have a Registered Retirement Savings Plan (RRSP). This means you can withdraw up to $35 000 from your RRSP to buy or build a home.
If you want to renovate your home, and make it more energy efficient, there is a grant that can help you with that. The Canada Greener Homes Grant can provide up to $5,000 for home renovations and up to $600 to help pay for an EnerGuide home energy evaluation. The 2021 Federal Budget also proposed interest free loans of up to $40 000 to carry out these energy efficient renovations.
There are more options available than the ones listed here. As these programs often change, contact me to discuss.
What Services Can a Mortgage Expert Help Me With?
A mortgage expert, mortgage consultant, and mortgage broker are all names for the same profession. A mortgage expert has relationships with many lenders and can help you access equity, refinance current properties, consolidate debt, save you time and unnecessary fees, and will collect and verify all the paperwork you are required to review and sign for your situation.
When buying a new home or rental property, a mortgage broker does all the legwork for you by relying on relationships with lenders to get the best rates and terms for a mortgage.
Instead of being confined to a single bank, a mortgage broker has access to multiple lenders and can shop around for the best rates and terms.
Looking for support with purchasing your first home? Get the best rates, a pre-approved mortgage, and I help you navigate through the paperwork. Instead of being pressured by a bank to sell you an unsuitable rate, I am able to hunt 50+ lenders and get the best option for your mortgage.

Apply for a mortgage